Happy Halloween from Photos On The Vine!
Halloween is one of Xavier's favorite times of the year!  This year was no exception. Our darling children bought us these crazy old masks for each of our birthday presents this year (hysterical, right?) so we decided to create our costume from them, and the costume led to the set design, and then to the idea of bringing our dog in to the story to give us advice. Which rasies the question, can a young dog teach the old new tricks?
As an artist don't' you just love how ideas can be born?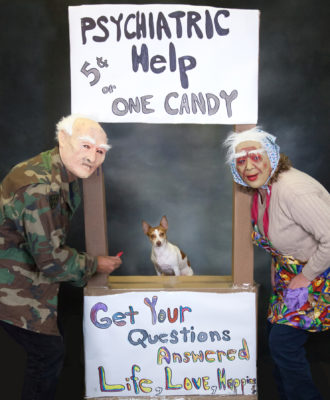 We are about to celebrate our one year anniversary in our new location at Photos On The Vine at 6523 E. Lancaster, Fort Worth TX 76112. We love being part of this historic neighborhood and being neighbors with our Handley wedding district friends such as Bliss Bridal and Crème De La Crème Cake Company. We hear there is even a new Cat Café being opened up across the street soon and we are so excited for that opening!
We have  a lot of fun photography workshops, digital photography classes, and special events lined up for this wonderful holiday season. Follow us on Facebook and Instagram for instant updates.